'Insane' Number of Transfers on Ethereum and ETH Dapp 'Secret' Volume
Two good news have reached the most popular smart contract platform and second biggest crypto network by market capitalization, Ethereum (ETH), in the past few days.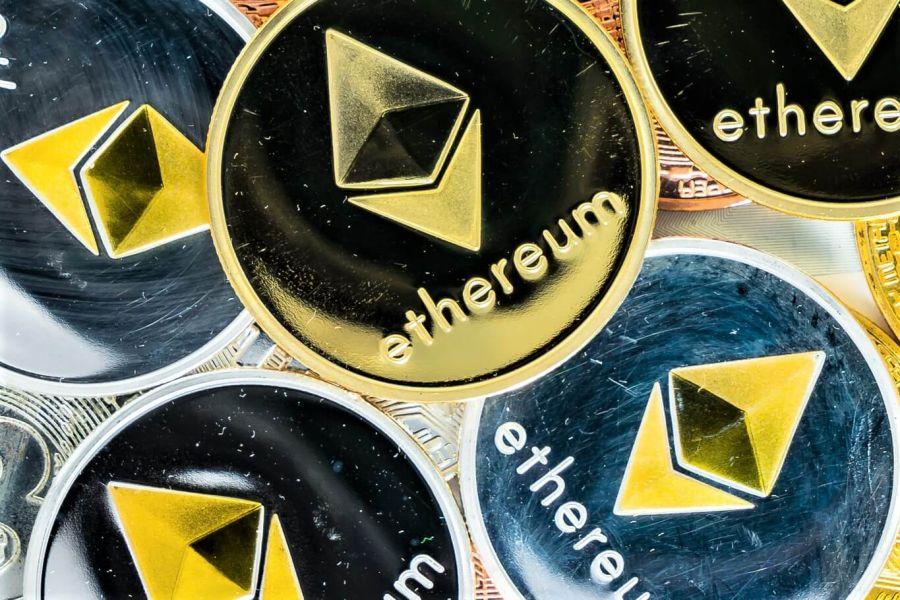 First, Ethereum managed the 'insane' number of transfers on its network.
Second, improved ETH dapp (decentralized application) tracking instruments showed that the real transaction volume might be several times bigger than previously thought.
The network has managed to remain unclogged despite the growing numbers of ERC-721 token transfers. In fact, the network has handled more than 3.7 million Ethereum ERC-721 transfers on November 17th alone, which is four times more than the previous all-time high, states cryptoasset analytics firm Coin Metrics.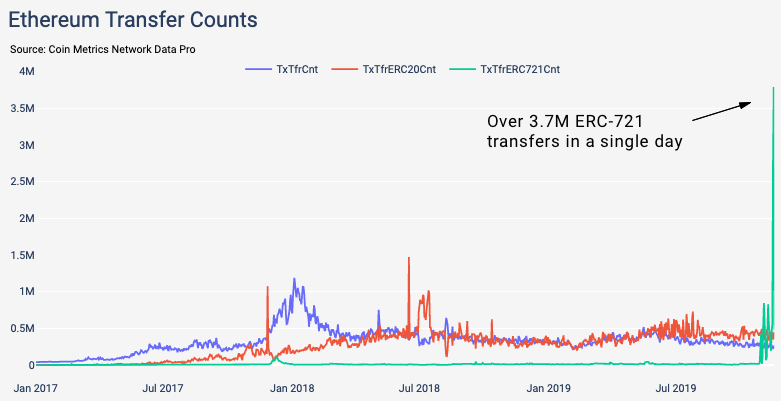 The company explained that the massive spike in ERC-721 transactions originates from an Ethereum-based digital collectibles game Gods Unchained. The transfers didn't clog the Ethereum blockchain either, as its blocks haven't surpassed 85% of their capacity since mid-October.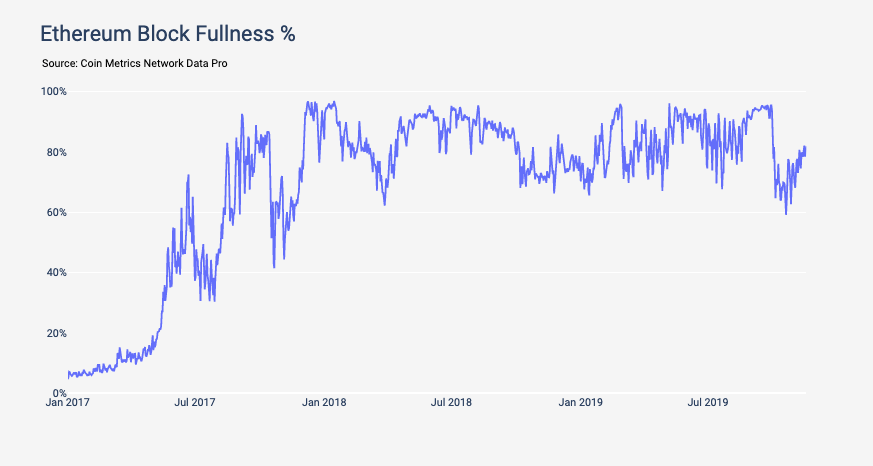 The company also clarified that this is due to "batching hundreds of transfers in single transactions." In contrast, another widely popular Ethereum-based game, CryptoKitties, has had only approximately 4.7 million transfers through its entire existence. The network congestion has been a major issue for Ethereum in the past, and one of the issues motivating the transition to the Proof-of-Stake (PoS) consensus algorithm based Ethereum 2.0.
Other Ethereum news comes from DappRadar, a dapp data aggregator and analysis company, which announced the implementation of the ERC-20 token tracking for all Ethereum dapps.
The new measure helped to discover more than USD 73 million of unaccounted 7-day (November 10-17) rolling average transaction volume. Previously, only the volume of ETH cryptocurrency was being tracked, and it resulted in approx. USD 27 million weekly transaction volume in the same period. Including the ERC-20 token transactions, the total 7-day volume has increased to just over USD 100 million worth of value exchanged weekly, or more than USD 5.6 billion annual transaction volume (in theory). Ethereum-based dapps make up over 60% of all dapps listed on DappRadar.

"This will greatly increase the transparency of value creation on the Ethereum blockchain, especially for decentralized exchanges that support the trading of ETH-based tokens and the fast-growing DeFi (decentralized finance) category," said Skirmantas Januskas, CEO and Co-founder of DappRadar.
The company says that this feature is also live on EOS and that it plans to roll it out on all other protocols in the unspecified future.