Ethereum Foundation Sold ETH To Novogratz At Premium In 2015
Five years ago, Mike Novogratz, CEO of digital asset-focused financial services firm Galaxy Digital, acquired ETH 500,000 from the Ethereum Foundation, paying a premium price of USD 0.98 – USD 0.99 per ETH, Ethereum Co-founder Vitalik Buterin confirmed today. (Updated at 13:14 UTC: updates throughout the entire text).
Today, ETH trades at around USD 470, but in a recent interview with Alex Saunders, the host of the YouTube channel Nugget's News, Novogratz said he sold an unspecified amount of ETH for "twelve hundred" per coin. In either case, today, the whole stash would be worth USD 235m. Also, it is almost the same amount of ETH as the Ethereum community is struggling to find in order to launch Phase 0 of Ethereum 2.0.
During the interview, Novogratz said that he acquired ETH 500,000 from Buterin himself. However, the Co-founder later clarified that it was the Ethereum Foundation that sold the stash.
"Ether was trading at around 95 cents, it wasn't easy to buy back then. There were some exchanges, but it was illegal if you're a New Yorker to buy it from an exchange, because you could only buy it from regulated exchanges, " Novogratz said during the interview.
The CEO recalls the sale was above ETH's then market price, and the final price was increased right before closing the deal.
"I called [Vitalik] up, I met him once, at dinner, he remembered me but didn't know me… but they thought it was good for the community to have a Wall Street guy buy it, so I bought half a million ether at 99 cents, or maybe at 98 cents. He changed the price for me at the last minute from 98 to 99 because I waited too long and the price was going up," according to Novogratz.
Meanwhile, publicly known Buterin's ETH wallet holds ETH 333,348 (USD 155m).
"And then, I started an office, a family office in January next year, and took myself more seriously: wow, that crypto thing is going to be real," Novogratz said. "I was lucky enough to be wealthy already, and when you're wealthy already and you buy a bunch of something that's working, you don't feel that tremendous need to sell. I sold some, of course."
Even though he sold an unspecified share of the purchased crypto, he believes he managed to make a hefty profit on the 2015 transaction:
"I actually was selling some of my original one-dollar buys at twelve hundred [dollars per ETH] and I was thinking to myself … [that] I can't think of many other [such] things in life [because] a ten to one is a great trade, a hundred to one is a great trade, but a thousand to one?"
ETH was trading above USD 1,000 per coin in January 2018 only.
ETH price chart: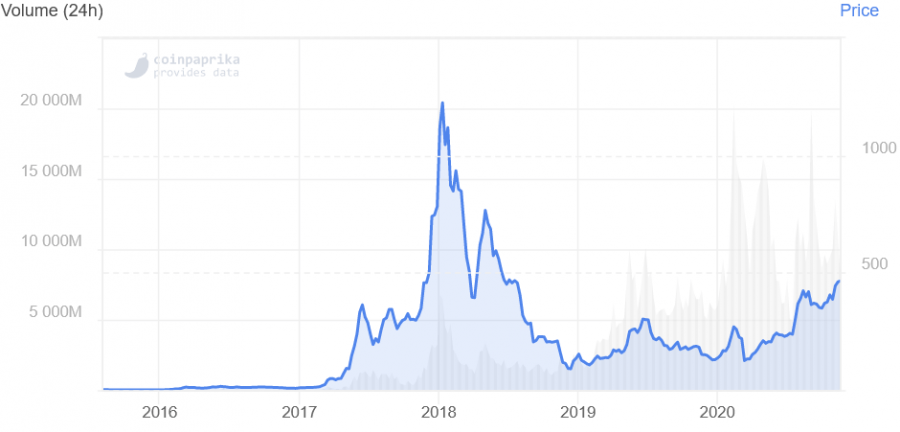 Novogratz is a former hedge fund manager who left Fortress Investment Group in 2015 and was paid USD 255.6m for his shares.
At pixel time (13:13 UTC), ETH trades at USD 471 and is up by 3.4% in a day and almost 6% in a week. The price rallied by 25% in a month and 154% in a year.

__
Watch the whole interview with Novogratz below:
__

Learn more:

Launching Ethereum 2 Phase 0 On December 1 is an 'Uphill Battle'

How Good Is Mike Novogratz In Guessing Bitcoin's Price?

Surprise! Vitalik Buterin Tried to be an Intern at Ripple

Buterin "Lost" USD 460 Million, Community Offers "Help"